Weatherproof Degree:
IP67
Transport Package:
Kntech Standard Carton Packing
Specification:
CE, RoHS, ISO9001: 2008, SGS, IP66, FCC, EMC
Weather Resistant Maritime industrial Telephone SIP Emergency Telephone
Main features :Â 
1. Â Robust aluminium alloy die-cast SMC body, Â  Vandal resistant and tamper-resistant hardware, simple installation.
2.  Auto-dial, as soon as you pick up the hand set the phone will put through. Or one button optional
3.  Weather resistant to IP66 standard, service temperature range from: -35 degree to +75 degree
4. Â Magnetic reed hook-switch
5. Â Telephone line powered. No external power or battery back up required.
6. Â Lightening protection to ITU-T recommendation K.21
7. Â Handset: made of special engineering plastic, high anti-knock resistance, Weatherproof, armoured cable optional, Â Â Â 
8.  Hearing Aid compatible receiver, Noise canceling microphone.
9. Â Handset integrity wiring to enable the telephone system to check if the telephone unit is still operational.
10. Â Selectable 7 minute time out, to release the line if the handset is left off hook.
11. Â Ingress Protection: GB4208-93Â Â  IP66Â Â  EMC: EN55022/EN55024/EN50121-3-2: 2006Â Â  FCC
Weather Resistant Maritime Industrail Telephone KNSP-18LCD
| | |
| --- | --- |
| Product Name: | Koontech Waterproof telephone |
| Product model: | Koontech KNSP-18LCD |
| size: | 320*205*100mm |
| material: | SMC |
Applications:
As Public telephone for indoor or outdoor, Taxi or bus stands or station, Highway call box
Railway, metro, ATM machines side,  Tunnel, Port, Dock, Mines, Generation facilities...
A good ideal telephone for use in wet or corrosive atmospheres
LCD Display
VOICÂ OVERÂ IP-Â SIPÂ (Optional)
Connection type: RJ45 Socket inside sealed enclosure
Power supply: External 24V dc
Call set-up Protocol: Session Initiation Protocol(SIP)
Configuration: DHCP or STATIC IP address provisioning
 
Technical parameter

Ambient temperature

-30~+60°C

Defend grade

IP66

Relative humidity

10%--95%

Atmospheric pressure

86~106KPa

Circumstance noise

less than 60dB(A)

Sound level of ringing

>70dB(A)

Standard frequency

697. 770. 852. 941Hz

Call transmission index

(5KM)SLR<12,RLR<-1,STMR>10, output impedance is 600 Ohm.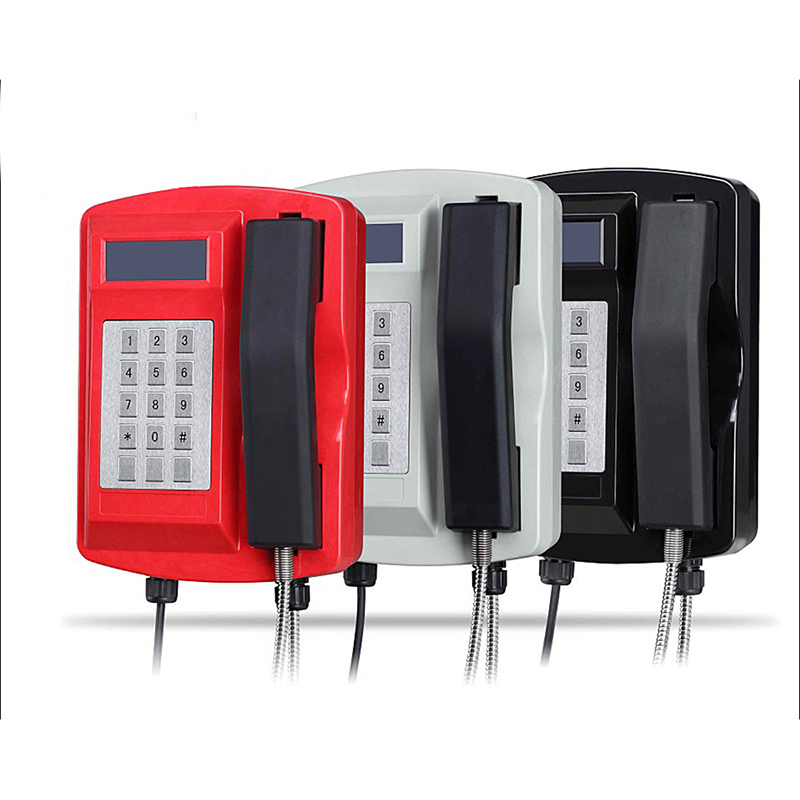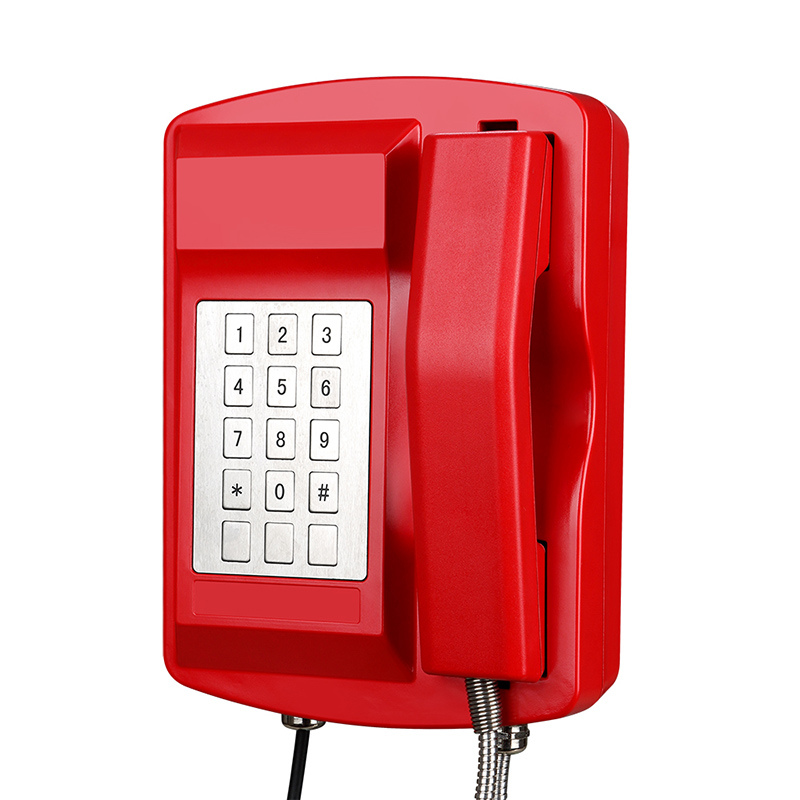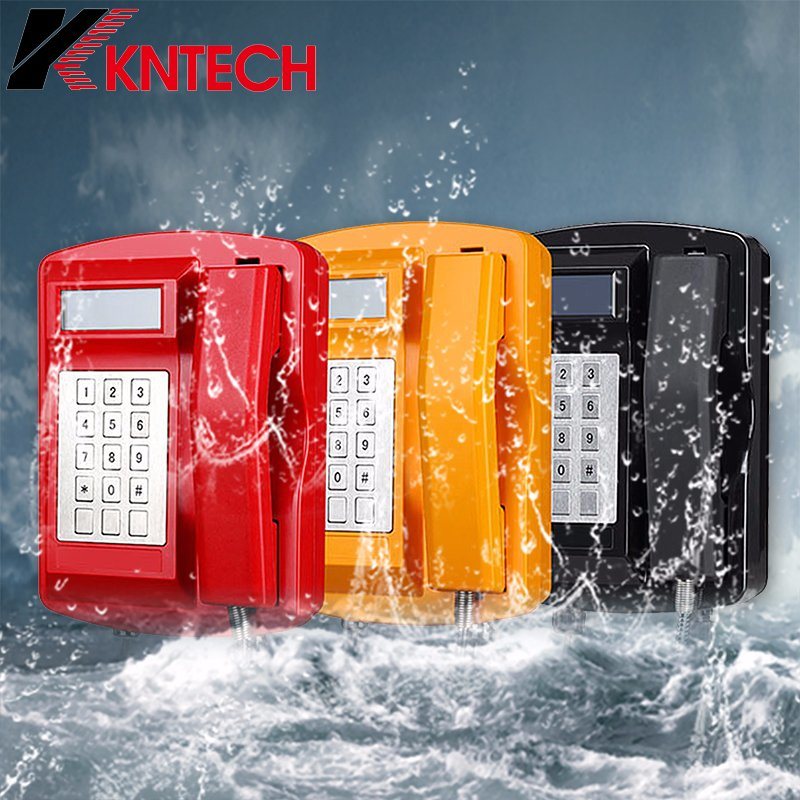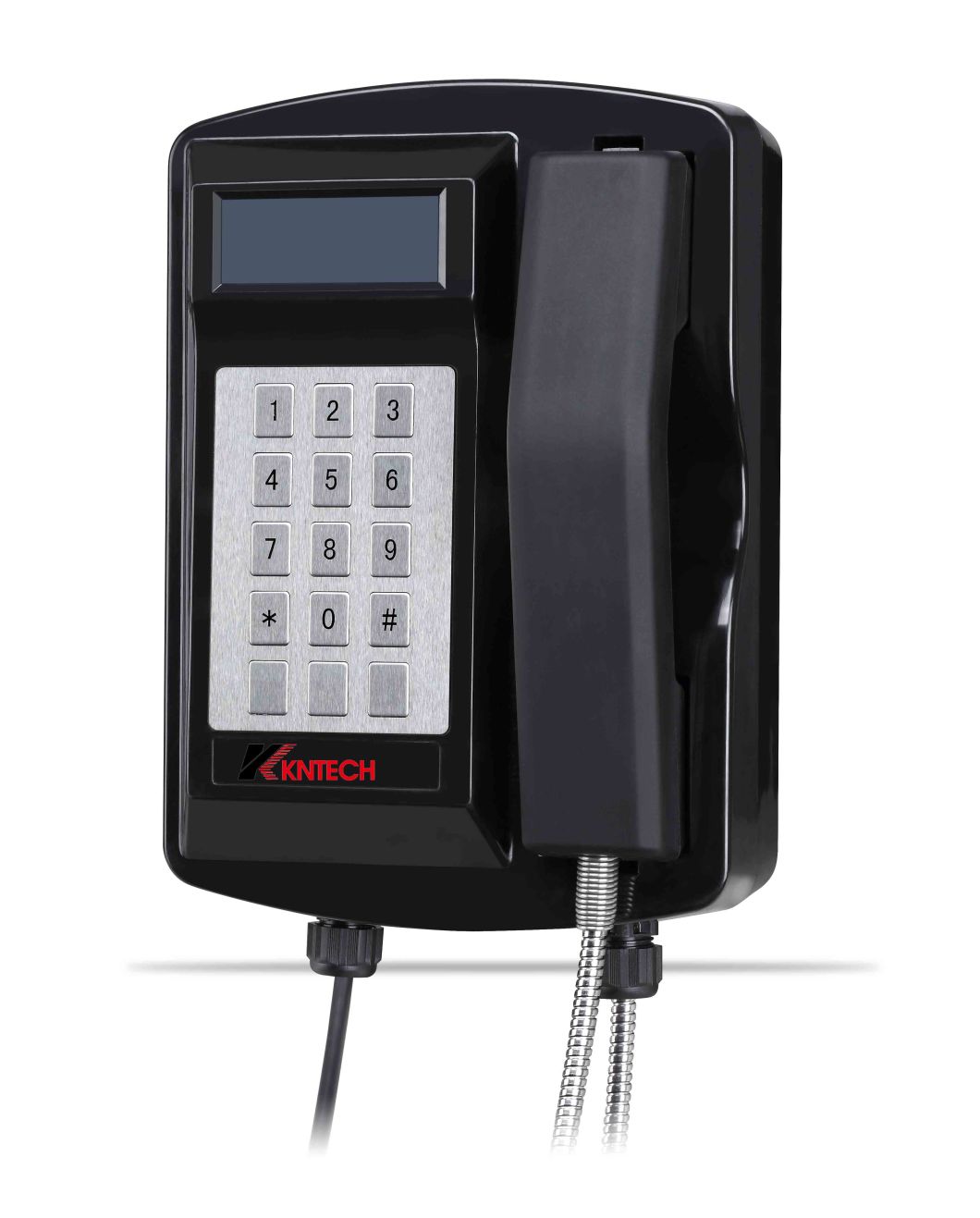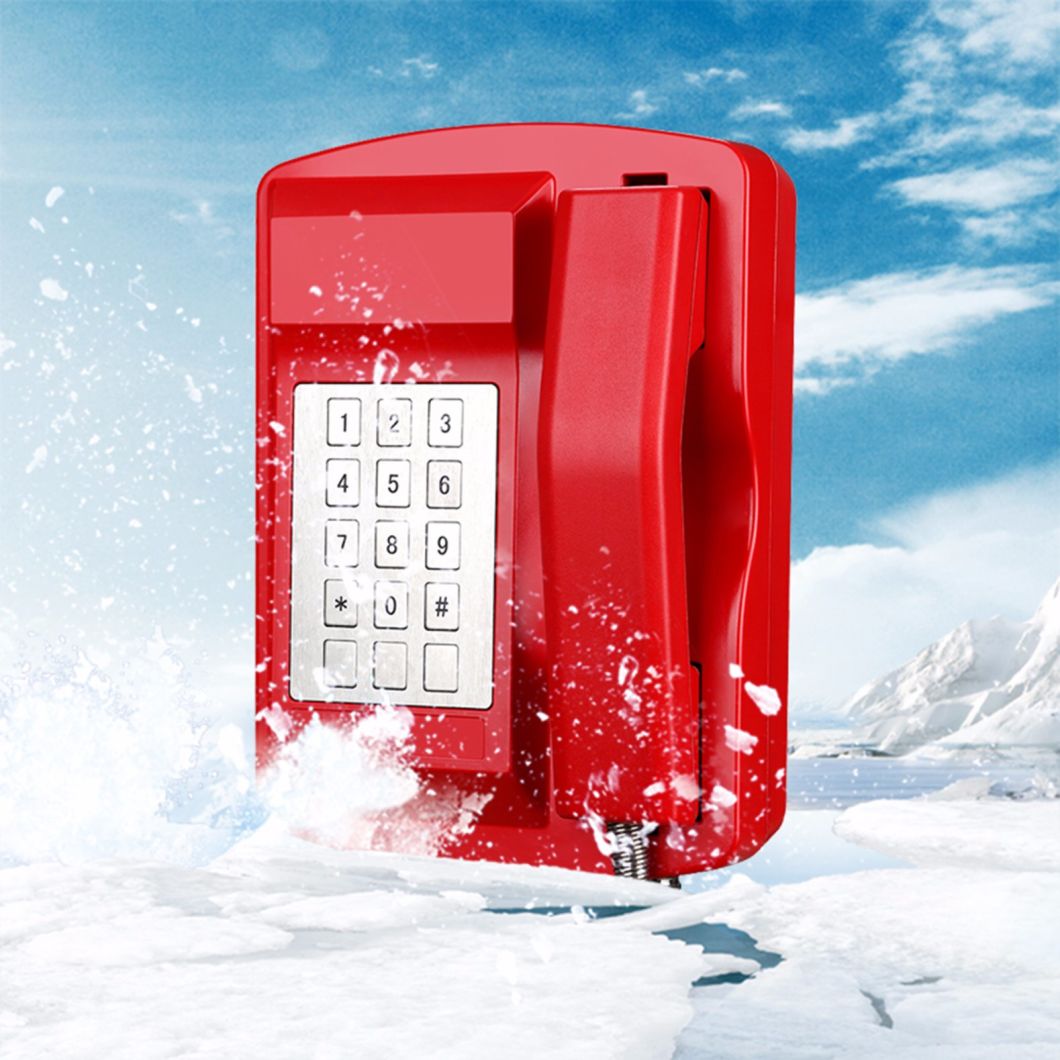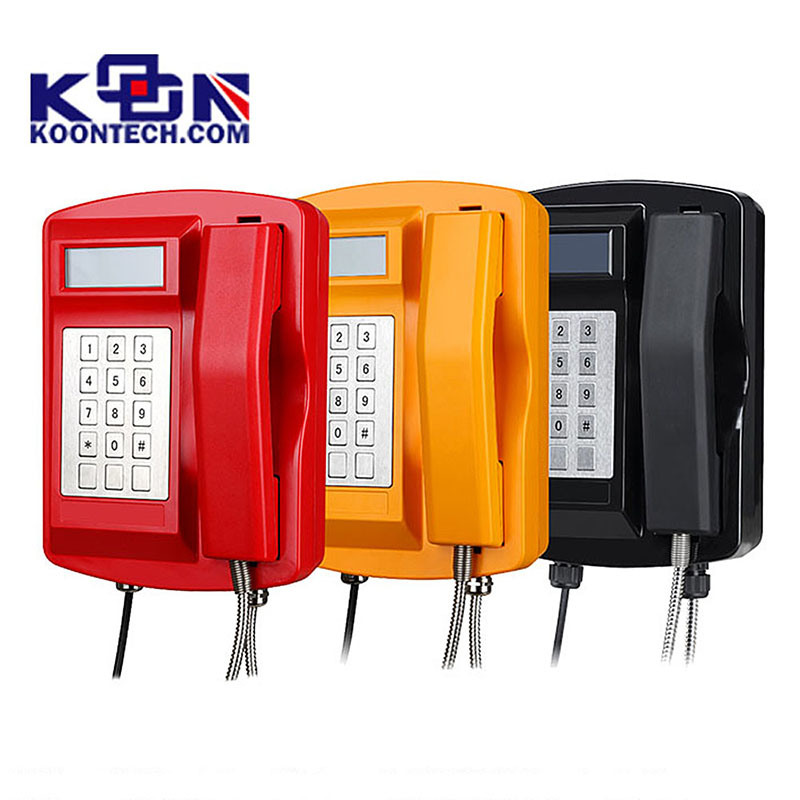 Our Company
HongKong Koon Technology Ltd is the most professional manufacturer in Asia, The exclusive supplier for all Metro project in China.
We are the leading professional manufacture of most complete production line of IP66/IP67 emergency telephone, SOS phone, Weatherproof telephone, elevator telephone, tunnel trackside telephone, highway emergency phone.They are IP or PSTN/analogue telephone and wireless GSM 2G 3G. phone line powered, solar powered, or AC powered.
More than 100 models, different colors, different type of mounting, CE, FCC, IP66, ITU-T, ISO9001, EN50121 approvaled. ATEX DNV certificate under process.
Emergency telephone Application:
indoor: Airprot, transtation, bank,koisk, elevator, university, hotel, hospital, plant, oil and gas.
outdoor: tunnel, highway, marine, outdoor station, construction, bridge, steel, mine, army, scenic region, 
Successful project in recent:HK MTRC contract XRL851, LRT Project in Malaysia, Bangalore Metro, HONGKONG KAIDA tunnel, HK MTR,Italian Metro,BKK Red Line Thaliand, IKITELLI metro project, Mumbai metro in Indea, NSR project in Saudi,BHP Billiton australia, CSN Brazil, Chalco China, story bridge Austrialia,HSBC bank, China bank, ICBC, HK airport, Frankfurt France, BeiJin airport, Beijin University, HK university, etc.
Our emergency telephone SOS telephone are widely accepted in countries in North America such as USA, Canada, in European countries such as UK, Germany, France, Netherlands, Greece, Sweden, Ireland, Swiss, Austria, Luxembourg, Belgium, Italy, Spain etc. and Russia.
Packaging specifications
| | |
| --- | --- |
| Machine size | 320 *205 *120( mm ) |
| Carton size | 439 *277 *191( mm ) |
| Packaging material | pearl cotton, carton |
| Gross weight | 5.7KG |
| Net weight | 3.9KG |
Autodial telephone, handset emergency telephone, handfree emergency telephone, handset free emergency telephone, Auto dial emergency phone, Metal emergncy telephone,sos telephone,help telephone, GSM telephone,help point,help phone, outdoor emergency telephone, Gaitronics, emergency call point, metal help telephone, camera phonepublic telephone, loud speaking phone, bank service telephone, elevator phone, window intercome, LCD telephone, hotline phone,talk a phone, cleanroom telephone, viking,weatherproof phone, SIP phone,voip phone, call point outdoor weatherproof phone, solar energy help phone, tunnel telephone, 2G, 3G telephone, trackside telephone, Vandal Resistant Telephone
 
This Automatic curtain is specially designed for automation industry. SDKELI LSC2 light curtain is designed for automation field, with small size, compact structure and strong anti-interference ability, and the product meets IEC 61496-2 standards. The Automatic Light Curtain is with reliable quality and very competitive price. It has been used in many factories and has replaced curtains from Sick, Omron, Banner, Keyence, etc.
Automatic Light Curtain
Automatic Light Curtain,Laser Light Curtain,Automation Light Beam Sensor,Automatic Infrared Beam Sensor,Infrared Beam Curttain Sensor,Infrared Beam Sensor
Jining KeLi Photoelectronic Industrial Co.,Ltd , http://www.sdkelien.com