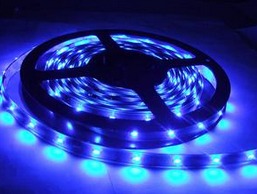 After a brief peak period, LED lighting gradually returned to a stage of trough. In order to grab a limited market share, low-priced products once rampant. However, as the country's subsidy to LED lighting and standard formulation continue to enhance the overall atmosphere of the industry, low-cost products gradually shrink the encirclement. According to the latest news, LED lighting fixtures exported from Shenzhen to Japan must be affixed with specific labels for safe production, otherwise they will not be allowed to export; domestic LED procurement requirements will gradually increase; national tender documents also clearly state the requirements for subsidies, and all indications indicate low-end products. The living space will be shrinking, and the lucky companies of low-cost war will gradually become ubiquitous.

At the same time, LED high-value-added products have good market conditions, and intelligent lighting continues to burst out with the latest developments, and market acceptance is increasing.

As early as ten years ago, voice-activated lights installed in corridors have successfully opened a new era of smart lighting. When someone passes through, when the sound is sensed, the lighting lights naturally; in unattended mode, the lights are off, which saves electricity and is convenient. This is just the most simple application of smart lighting, but in practical applications, smart lighting is far more complicated than this, led smart lighting technology content is higher. Popular speaking, led smart lighting is not just a simple replacement of traditional lighting, but based on the controllable led, combined with current communications, sensing, cloud computing, Internet of things and other modern scientific and technological means to achieve more intelligent led lighting, Controllable light is not just the effect of light.

There are two main concepts of intelligent lighting: one is to change the light through sensing and let light adapt to people; the other is to use light as the transmission medium and human as the receiver. Led intelligent lighting control, including switches, dimming, light mixing, or color temperature (cct) adjustment applications. If led lighting is a dazzling crown, then led intelligent lighting is the most shining pearl on the crown, is a more profound technical means to achieve business, but also the future of led lighting must fight "blue sea" place.

The basic characteristic of LED is that it is controlled, LED intelligent lighting not only changes the light, but to achieve a higher level of lighting effects, both intelligent and energy-saving. In the indoor, outdoor, landscape, engineering and other hundreds of flowers in the lighting scheme, in the rapid technological innovation, the advantages of LED smart lighting is even more known.

The most direct experience that smart lighting brings to human beings is the enjoyment of beauty and the senses of beauty. LED intelligent lighting products have been successfully used in commercial lighting, home lighting, landscape lighting, road lighting, and other fields, such as food lighting lamps that can change colors in supermarkets; street lights and tunnel lights that can be automatically adjusted on highways and tunnels; large-scale projects Intelligent control of multi-color landscape lights in the project. Of course, the most tempting application is home lighting, and one of its unique advantages is to create a comfortable and energy-saving lighting environment through intelligent control. Imagine that no matter where you are, if you have a controller, you can change the lighting conditions of your home at any time. When you go home and push the door open, you don't need a cumbersome power switch. Just one ringing finger or one instruction, the light will be on naturally; On the other hand, if you want any mode of light to be realized right away, this is how wonderful and enjoyable it is. These, LED intelligent lighting can help you achieve.

Energy-saving and environmental protection and intelligent control are the second-biggest advantages of LED intelligent lighting. LED itself has become a global leader in energy saving and environmental protection. As a result, LED smart lighting is not only reflected in its beautiful lighting effects, but also in a significant energy-saving effect. We can see from the statistics released by Qinshang Photoelectric Dongjiang Dike Project. In this project, a total of more than 2,100 LED street lights were installed, and 400W high-pressure sodium lamps were replaced with 195w LEDs. The lights were turned on at full power from 19:00 to 24:00 every day, and were turned on at 50% power from 24:00 to 5:00. According to the current situation, the overall technology is weak, power supply constraints are obvious, and the human-machine interface is not mature.

The earliest entry of LED intelligent lighting in China dates back to the 1990s, but due to the influence of multiple markets, it is still at an early stage of exploration and development. Affected by the Internet of Things, cloud computing and various communications equipment, the more important is the immature technology of LED itself. From the perspective of the current global technology foundation level, all are in the stage of research and exploration, and it is still necessary for the dream to shine into reality.

First, the overall technical foundation is weak. As early as the first half of 2011, Philips Lighting has been working with Bayer to join the eco-business architectural plan. Through cross-domain cooperation, the program provides decision-makers in the construction industry with comprehensive service and material solutions for the construction of public and commercial sustainable buildings. At the same time, Osram also acquired encelium technology company last year to target LED lighting control solutions. In addition, companies such as Ge, Nichia, and Seoul also use LED intelligent lighting as an important deployment area for global strategy. From a geographical point of view, Japan and Europe and the United States have always been at the forefront of the industry. Europe and the United States have adopted mature intelligent lighting systems for home, business, and lighting, and Japan's demand for LED smart lighting has never been reduced and increased since the disaster. quality.
As LCD display in YFJ company that we usually use it to military grade battery ,especially Lithium-ion batteries ,for these battery applications ,we have obvious advantage is that we focus more on shor circuit protection which we follow the US military standard.
Short circuit protection:The following test shall be performed. Charge batteriesas specified in ; use of 4.6.3 is permitted. Measure and record the OCV. Short each battery across all the positive and negative terminals with a total external resistance not greater than 50 milliohms. After one hour remove the short from across the terminals. Measure and record the OCV. Stabilize batteries at the normal conditions of 4.3.1 for not less than 2 hours. Chargebatteries in accordance with 4.6; use of 4.6.3 is permitted. Stabilize batteries at normal conditions for not less than 2 hours, then discharge the battery in accordance with 4.7.2.3. The battery shall meet the requirements of 3.7.2.3.


Li-Ion Battery With Lcd Display
Charge voltage: 16.8V
Nominal voltage : 14.8V (4S7P)
Initial impedance : 120mΩ
Nominal capacity: 19.6Ah
Minimum capacity: 19.4Ah
Communication methods : SMBUS data communication
Electricity quantity show: LCD Electricity quantity show
Charge current: Standard Charging::0.2C5A (3.9A)
Rapid charge: 0.5C5A C(9.8A) Max
Standard Charging method : 3.9A(0.2C5A) CC(constant current)charge to 16.8V,then CV(constant voltage 16.8V)charge till charge current decline to ≤196mA(≈0.01C5A)
Charging time:Standard Charging: 6.5hours(Ref.)
Rapid charge: 3.5 hours(Ref.)
Max.discharge current: 9.8A(0.5C5A)
Discharge cut-off voltage: 10.0V
Cycle life (0.2C5A/0.2C5A) : 500 items,≧80%DOD; 300 times,≧80%DOD
Operating temperature : Charging: 0℃~45℃
Discharging:-20℃~+60℃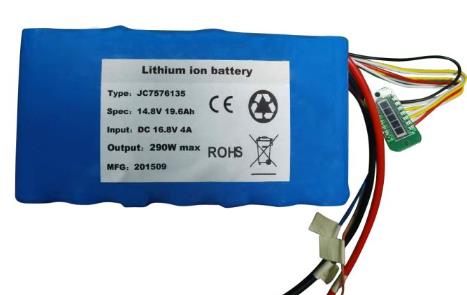 Li-ion Battery With LCD Display
Li-Ion Battery With Lcd Display,Battery Charger With Lcd Display,Battery Pack With Lcd Display,Rechargeable Battery Pack With Lcd Display
YFJ TECHNOLOGY (HK) CO.,LIMITED , http://www.yfjpower.com