Since the advent of the world's first Pebble smart watch of the same name, a wave of buying smart watches has been launched around the world, followed by globally renowned manufacturers such as Google and Apple. The founder of Pebble once said, "We are not making watches. The future vision is not to make watches, but to make people's lives more efficient by creating watches and using a network of devices around us."
The smart watch industry seems to have encountered some difficulties, even Apple is no exception. In fact, the first true smart watch is Pebble's eponymous product, which has its roots in crowdfunding websites, quickly gained user attention and support, and gained venture capital, with global sales exceeding one million. Subsequently, Google and Apple entered the field of smart watches, and Pebble seemed to be slightly silent.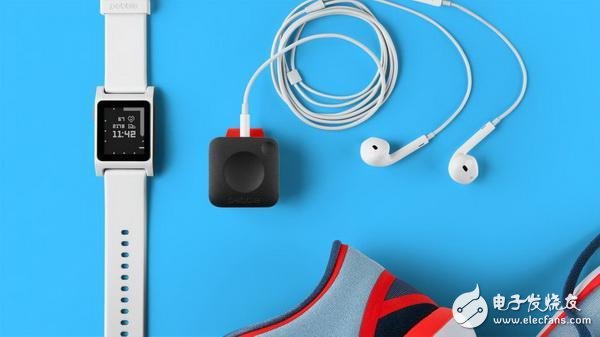 Unlike Google and Apple, which focus on proprietary platforms, Pebble's products consistently support iOS and Android devices, while maintaining a minimum of 5 days of endurance and have their own app store. This year, Pebble launched the true sequel Pebble 2, which still maintains a simple design, electronic ink screen and low price. So how will Pebble survive in the cruel smartwatch industry?
Watch manufacturer that does not create watches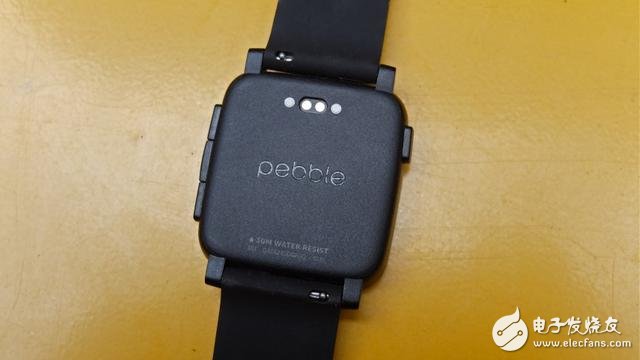 The founder of Pebble once said: "Our vision is not to make watches," which seems to be somewhat contradictory. But when Pebble released the Core gadget, it seemed that he could understand a little bit about what the company was trying to create.
Pebble Core is very interesting. It has a built-in SIM card slot, microphone and GPS. It can be connected to Pebble watches and can be extended by programming, including playing music or even sending emergency text messages. Officials say it can replace mobile phones to some extent. Of course, from the current point of view, Core can't replace the mobile phone, but it is obviously an attempt to shape the personal device in the future. And Pebble's real goal, also revealed by the Core part, is "creating watches, and the network of devices around the body, making people's lives more efficient." Simple understanding is "wearable network."
Pebble's future
From Core's word of mouth, Pebble seems to be somewhat blind and confident about this future form of equipment. People still like and rely on smartphones because they are more intuitive and powerful, even if they need to be recharged every day. The same is true for Apple Watch and Android Wear. They are not perfect, but with the support of powerful platforms and brands, they have become the first choice for people's smart watches.
So, where is the future of Pebble? Currently, Pebble is focused on adding more sophisticated hardware to its watch products, such as Pebble 2's new heart rate sensor; Pebble TIme 2 is still a high-end product with a color screen and a metal body. The endurance is also more than a week. On the software side, Pebble opens up the SDK to developers to encourage people to develop applications for it, while Pebble Core uses a new Android-based system that makes it easier to operate on the Internet.
Pebble's branding effect has taken shape, perhaps not as Apple and Google, but it has a certain influence in the field of smart watches. Its vision describes the creation of a "wearable network" that clearly requires further visualization, a Core or several new watches, and it is obviously impossible to convert the concept into an actual application experience that users cannot feel. Although Pebble believes that it has a different perspective from Google, it still needs to be the first to succeed in the field of smart watches in order to further realize its vision.
12V 100Ah Bluetooth Lithium Battery
What is UFO Lithium Battery with Bluetooth Technology?
The Bluetooth technology incorporated with the LiFePO4 battery introduces a new way of using the battery. It allows users to monitor battery status and control battery health easily. At the heart of each UFO LiFePO4 battery, it can be equipped with hardware and software BMS to provide battery protection to maximize battery life, performance, and safety. With a 1/3 Weight of lead-acid battery, space-saving size, the UFO Bluetooth Lithium Battery could be an ideal replacement for conventional lead-acid batteries. It can charge a lot quicker and maintain a longer lifespan.
Lifep04 Battery Pack,Home Storage Battery,Solar Lifepo4 Battery,Powerwall Battery Pack

Bluetooth Advantages:
1. Suitable for complex locations or critical applications
2. Easy battery monitoring
3. Checking battery status through Smartphone
How to use?
After downloading a Bluetooth App on the smartphone, and connecting the lithium battery to the Bluetooth App, users are able to locate the UFO batteries quickly with no need of the Internet. It helps save the time for battery monitoring. With a UFO Bluetooth Series Lithium battery on hand, you are able to get the real-time data of lithium batteries through an app on your smartphone.
The Bluetooth App allows users to get the battery performance easily, including
· The state of charge
· Battery voltage
· Battery temperature
· Battery current
· Battery cycles

The built-in BMS (battery management system) monitors the overall battery health and avoid the potential battery issues so as to optimize battery performance, prolong battery lifespan and ensure battery safety. When purchasing lithium batteries from UFO POWER, you can be confident that your batteries will work perfectly whenever you need them.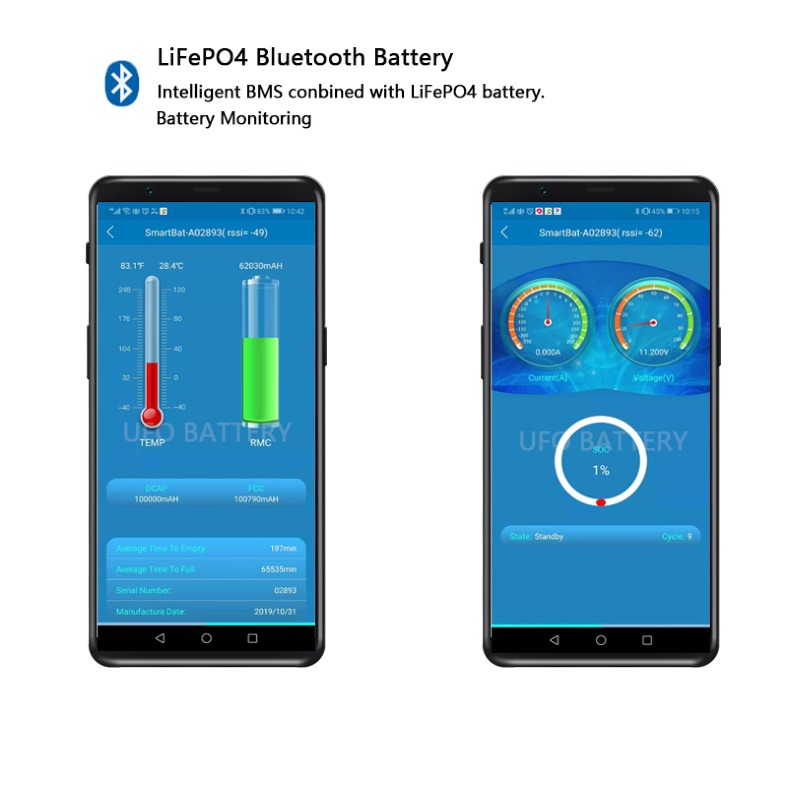 Applications
The UFO Lithium batteries with Bluetooth are available whenever you need them most.
The Bluetooth series can be used for a wide range of applications, including solar energy storage, backup batteries, recreational vehicle storage, camping, security system, medical, emergency and other energy storage demands.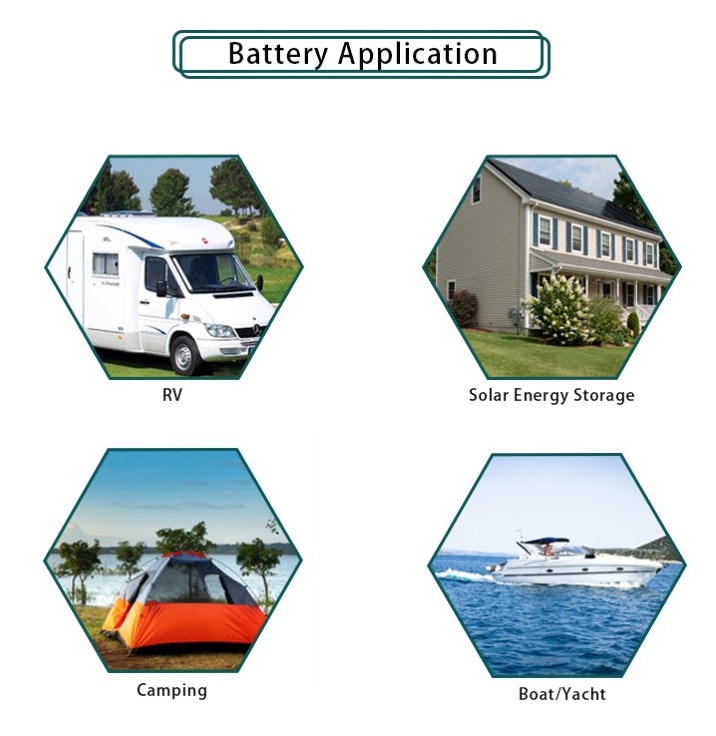 12V 100Ah Bluetooth Lithium Battery,Lithium Battery Rechargeable,Lithium Battery For Solar,Lifepo4 Battery 100Ah
ShenZhen UFO Power Technology Co., Ltd. , https://www.ufobattery.com