On July 22, the national SME share transfer system news, Xu Yu Optoelectronics (Shenzhen) Co., Ltd. listing application successfully passed, successfully landed on the new three board, stock code 838494.
It is understood that Xuyu Optoelectronics is mainly engaged in the research and development, production and sales of high-end LED light sources. The main products are LED light source devices, including COB integrated series, SMD patch series and 1-3W high power series. The products are widely used in general lighting and automobiles. Lighting, signal lights and other fields.
According to statistics from the Institute of Advanced Industrial Research LED Research (GGII), the total industry output value in 2015 was 396.7 billion yuan, a year-on-year increase of 15%, and the compound annual growth rate was 21%. In 2015, the annual output value of LED packaging reached 64.2 billion yuan, a year-on-year increase of 13%, and the compound annual growth rate was 15%. It is still higher than the growth rate of China's GPD and is in a stage of rapid development.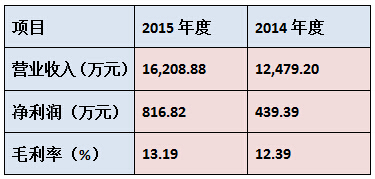 Xuyu Optoelectronics' main accounting data and financial indicators summary for the past two years
Relying on the development of high quality and reliable LED products, Xuyu Optoelectronics has been developing steadily in recent years. In 2013, it was rated as a national high-tech enterprise, and has since become a strategic partner of major international companies such as Jingyuan Optoelectronics. In March last year, Xuyu Optoelectronics plans to invest a total of 300 million yuan to set up a new R&D production base. After the completion of the project, the monthly average production capacity will reach 2000kk, and the goal of encapsulating the output value of 1 billion yuan will be advanced.
All the products of Xuyu Optoelectronics have consistently adopted the pure gold wire with 99.99% gold content to ensure the high reliability of the products and highlight the manufacturing quality.
For example, the company adopts high-reliability, ultra-low thermal resistance package design, and applies high-efficiency and low-light fade-down technology in high-end products, effectively avoiding problems such as aging blackening of the integrated light source, gold wire breakage, poor heat dissipation and cracking. .
At the same time, Xuyu Optoelectronics has passed many international quality certifications such as CE, RoHS, EN62471, LM-80, etc., with professional LED engineering research and development and efficient manufacturing team. The factory is equipped with two high-power and SMD 100,000. The dust-free purification workshop has passed the strict electrical performance test to ensure the stable performance and reliable quality of all products.
Moreover, Xuyu Optoelectronics is also actively deploying the hot and light car market. In the third quarter of this year, Xuyu Optoelectronics developed Clamp 3535 and 5050 series products to meet the high quality requirements of LED products in the field of automotive electronics. Car light market. The series also features consistent quality, reliable performance, higher light output, higher power, higher reliability and faster thermal conductivity.
"All along, Xuyu Optoelectronics has focused on high-quality, high-reliability LED package light sources, and strives to achieve the ultimate in packaging, in order to achieve common growth with customers. At the same time, we continue to look to the world with a global perspective. The big factory is on par with. The listing of the new three board is only a new beginning. Next, Xuyu Optoelectronics will continue to adhere to the high quality bottom line and continue to struggle to become a trustworthy LED packaging brand enterprise in the industry." Xu Yu Optoelectronics Chairman Lin Gold is mentioned.

STF164 Series Copy Stamford Brushless Alternator
STF164 Series Alternator Suppliers
The insulation system is class 'H'.
All wound components are impregnated with materials and processes designed specifically to provide the high build
required for static windings and the high mechanical strength required for rotating components.
WINDINGS & ELECTRICAL PERFORMANCE
All generator stators are wound to 2/3 pitch. This eliminates triple (3rd,9th,15th) harmonics on the voltage waveform
and is found to be the optimum design for trouble-free supply of non-linear loads. The 2/3 pitch design avoids
excessive neutral currents sometimes seen with higher winding pitches, when in parallel with the mains. A fully
connected damper winding reduces oscillations during paralleling. This winding, with the 2/3 pitch and carefully

selected pole and tooth designs, ensures very low waveform distortion.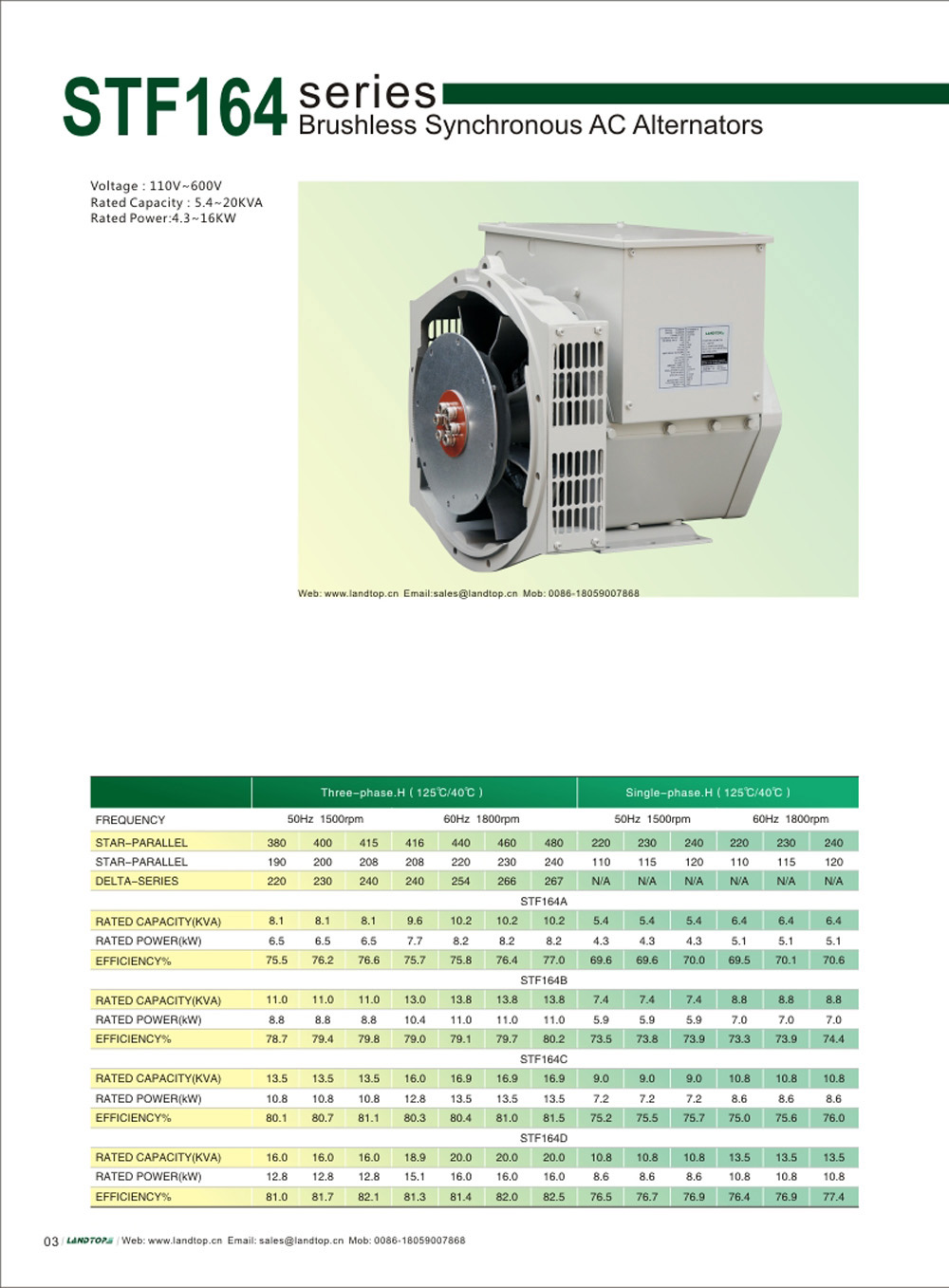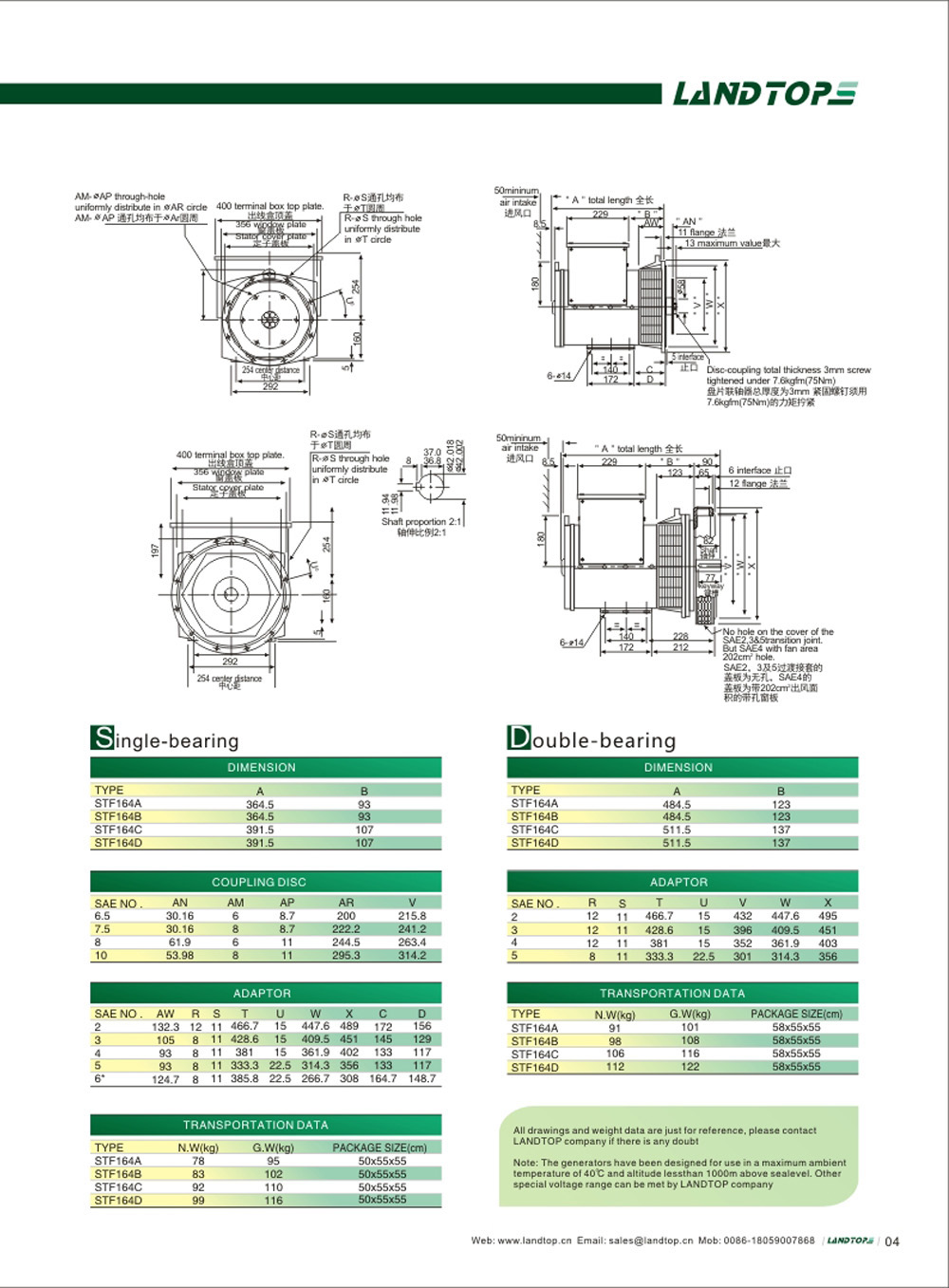 Copy Stamford Brushless Alternator,Three Phase Brushless Alternator,15 Kva Generator 3 Phase,11 Kva Alternator
FUZHOU LANDTOP CO., LTD , https://www.landtopcos.com